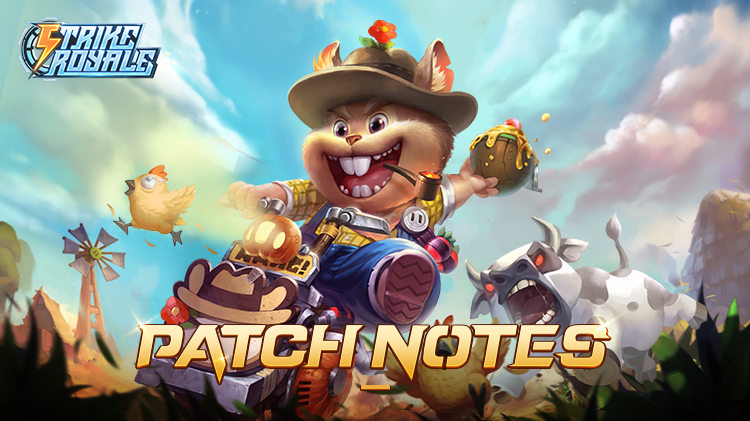 Strike Royale will initiate all-server offline maintenance from 2020.08.25 23:00- 2020.08.26 11:00 (UTC+8) for the new version update.
Dear players,
The new version of Strike Royale will be released on August 26, marking the start of a new season - Season X2.
In the new version, you will see the first non-human hero in Asgard, Phil. Up in the sky or deep in the ground, he can go anywhere! Maps in multiple classic game modes have been updated, with brand new scenes and elements, bringing more excitement to the battles. We have also better balanced some heroes, chips and cores, allowing greater variety of hero formation and more interesting combat strategies!
Meanwhile, we have updated the networking systems including Rankings, Friends, the profile page, etc. New features People Nearby and Legendary Rankings have been added. Now you can invite players around you and compete together for the legendary titles against global players!
We will introduce more new heroes and skins in the new season, and we have prepared unprecedented benefits for you. Stay tuned!
See you in Asgard on August 26!
——Strike Royale Development Team
Note: Subsequent values may be optimized based on version balancing. Please refer to the actual version.

New Hero Classes & Hero Gameplay
Modes & Maps
New Star Plan
New Ranking Lists & Friend System
New Hero, Phil
New Version of Season Pass


Description: In order to provide players with better combat experience in Strike Royale, we have downsized hero classes from 4 classes to 3 classes in the new version, and made changes to some heroes as well!
New Hero Classes
The original four hero classes (Attacker, Invader, Tank, Support) have been downsized to three classes (Shooter, Fighter, Tank). For further details about each hero's class, please refer to later patch notes.
New Hero Gameplay
Bella (Fighter)
When fully charged, Bella flashes forward and locks on the nearest target and shoots rapidly. When energy isn't full, her normal attack is shooting rapidly in the target direction. Each kill will grant a full charge.
Bella instantly enters Block state for 1.5s. If she gets attacked during this period, It will grant a full charge and Bella cannot be targeted again for 1s. Bella cannot attack or cast skills during this period.
Joe (Fighter)
Reduced the effective range of his normal attack, extended the range of his normal skill, and increased the reload time of his weapon.
Ultimate: Fires a powerful shot in a specified direction, dealing massive AoE damage to all enemies within the area. Also reloads his weapon fully.
Alice (Shooter)
Increased the effective range and damage of Alice's normal attack
Normal Skill: Casts a sound wave that knocks back enemy heroes in a cone
Mary (Shooter)
Ally heroes cannot pick up the fragments Mary leaves now
Normal Skill: Recalls all the crystal fragments on the ground, and restores her own HP. The crystal fragments will deal damage to the enemy heroes they hit on their way back.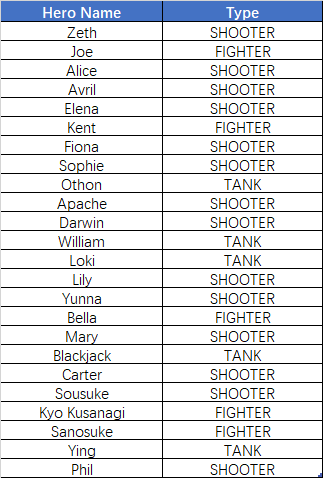 Description: After analyzing the game modes and maps, and hearing players' feedback, we decided to update and optimize the Skirmish, Sabotage, and Rogue mode. We also made some changes to the corresponding maps.
New Skirmish Gameplay
Added the Central Base: The central base opens in the first and third minutes after the game starts, for 30s each time. The team that occupies the central base for 7s will gain 2 points.
The occupation progress bar will increase only if all the players in the central base are from the same team. If both teams are in the central base, the progress bar will not change. If there's no player in the central base, the progress bar will reset.
Added Termination Bonus: If you defeat a player who has defeated 3 enemy heroes in a row, you will get 2 points. If you defeat a player who has defeated 5 enemy heroes in a row, you will get 3 points.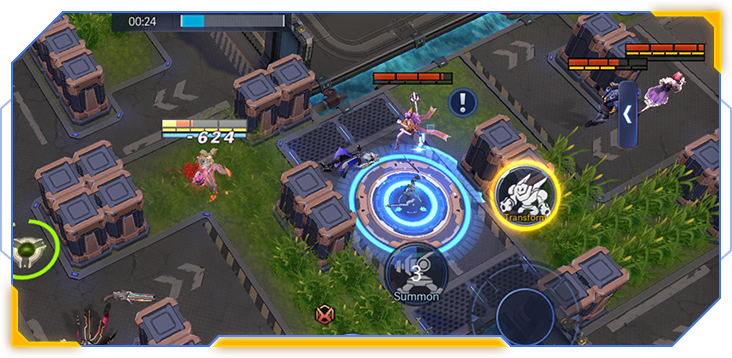 New Sabotage Gameplay
Removed the overload mechanism, and added damage reduction for Power Nexus and extra buff for players on the defense.
Damage Reduction for Power Nexus: When Power Nexus has 75%, 50%, and 25% HP left, the protection mode with a 90% damage reduction effect will be turned on for 10s.
Buff for players on the defense: When the protection mode is on, it will also increase the damage of all ally heroes within 20m by 60%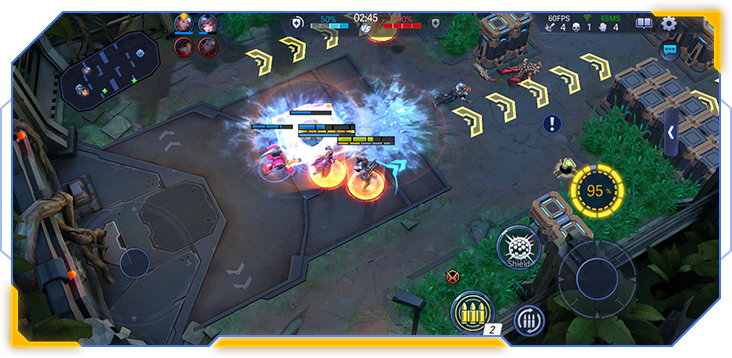 New Rogue Gameplay
Added Refrained Energy Uploader: One minute after the game starts, a Refrained Energy Uploader will appear at the center of the battlefield for 20s. Heroes can upload their Refrained Energy there. Uploaded Refrained Energy will be recorded by the system and will not drop when heroes are killed.
Added a new buff "Win or Die": When one team has obtained 20 Refrained Energy, it will trigger "Win or Die" for the other team, greatly increasing their movement speed for 10s. "Win or Die" can only be triggered once for both teams in one match.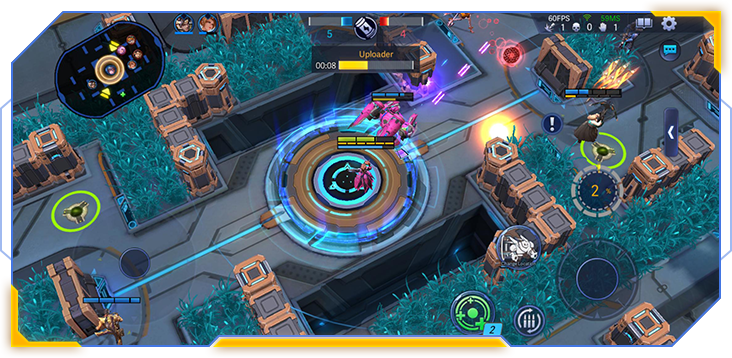 Map Updates:
Updated Outpost Crimson
Updated Area 10
Updated Shutter Island

Description: New Star Plan has been updated. While New Star's Path and Road of Growth have been removed, we added 14-Day Login Reward and Level-Up Rewards to provide a better and more clear system with even more rewards!
14-Day Login Reward:
Same as the original New Star Plan system, except that the sub event "Challenge" has been removed
Level-Up Rewards:
Level-Up Rewards consist of the unlocking of new features and rewards for the total stars you have
In the corresponding area, players can view the new features that can be unlocked at Lv.1-Lv.30. At each level, there are also specified quests. Complete those quests to earn stars and extra rewards.
Players can view how many stars they have acquired. Obtain 30 stars to get the hero Fiona, 50 to get Fiona's Gold Weapon, and 80 to get Fiona Skin - Graffiti Artist!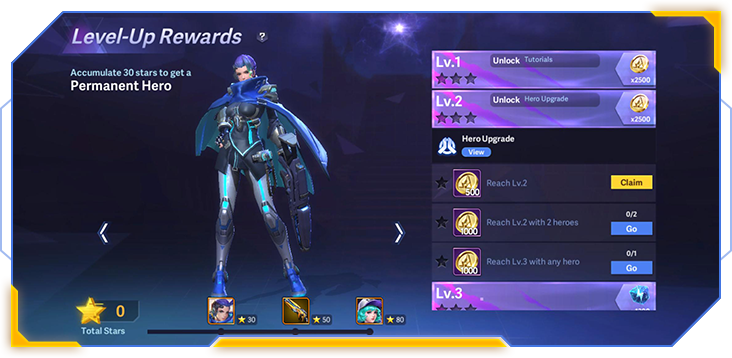 Description: In order to bring players more fun and better reflect players' glory in Strike Royale, we have greatly updated the ranking lists and the friend system. We believe that you can make more friends in the new version and it will bring you more excitement to top the new lists.
New Rankings Lists
Ranking lists are shown in full screen and more clearly in the new update. Meanwhile, we have removed Tier Ranking and Level Ranking, and added Legendary Ranking and Local Ranking in the subcategory.
Added Legendary Ranking: The Legendary Ranking Lists show the rankings of each hero in your region, with 4 levels of Legendary titles that match different region sizes: Rookie Legendary, Veteran Legendary, Pro Legendary, and Country's Best. Each Monday, players that win the titles will be rewarded with unique ornaments。
Added Local Ranking: Local Ranking is added to the subcategory in Ranked Match and Extreme Battle. You can view the ranking list for players in your area.
Ranking lists are made more clear and display more content. Players on the list can customize what to show to others and you can send likes now!
Updated Friend System
Added People Nearby. You can view people nearby who also enjoy Strike Royale and make friends with them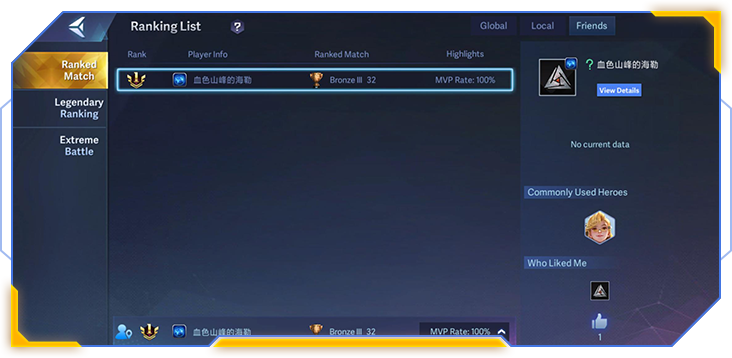 Description: Phil is the first non-human hero in Asgard. As a groundhog, he has a natural talent for blasting, which makes him a Shooter hero. Phil is good at ranged combat and always knows how to escape from a dangerous situation. His wild motorbike allows him to go anywhere he wants. He is the bomb madman that always gives people a headache!
Weapon & Skill:
Weapon - Explosive Bomb: Launches chestnut bombs that will bounce against walls and stick to the target they hit and deal damage. Up to 5 bombs can be stuck to one enemy hero. Phil gains movement speed boost after exiting battle, which will return to normal when rejoining the battle.
Normal Skill - Remote Detonator: Detonates the chestnut bombs on the nearby targets, dealing massive AoE Damage based on the number of bombs.
Normal Skill - Gift from Underneath: Phil throws a bomb and burrows into the ground and stays there for 2s, during which he is immune to damage and control and cannot launch any attack either. The bomb will explode in 0.5s, dealing AoE Damage to nearby enemies and slowing them.
Ultimate - Bomb Run: Phil rushes forward on a motorbike. Activating the skill again will detonate the motorbike, dealing massive AoE Damage. The speed and damage of the motorbike increases as he charges. After that, Phil will be blown up in the air, during which he is immune to any damage and control, and cannot launch any attack or cast skills either.
Special Attributes:
Weapon Attribute - Extended Magazine: Magazine Capacity +1
Skill Attribute - Tunneler: Gift from Underneath CD reduces by 2s
Ultimate Attribute - Burrow: Gift from Underneath lasts 50% longer
Tactical Gadget & Chip Recommendations:
Tactical Gadget: Railgun is recommended, which can improve the ability to poke
Chip & Core: Recommended chips include Strike, Fierce, and Strong. For cores, Poacher, Reaper, and Paragon are recommended

Description: In order to provide better gaming experience, Battlepass will be refreshed monthly starting this season, with more rewards available. Meanwhile, we have also optimized the display, quest mechanism, and other components.
New Battlepass
From this season, Battlepass will be refreshed monthly. Challenge Quests are now divided into 4 phases. Starting from the first day of each season, a new phase will be unlocked every 7 days.
Battlepass is still divided into the standard version and the advanced one as before. The standard version contains a large amount of Materials, Coupons and even permanent heroes and skin rewards, while the advanced version offers even more rewards on top of the standard one and permanent skins, including the exclusive Sophie skin - Chill'in Out!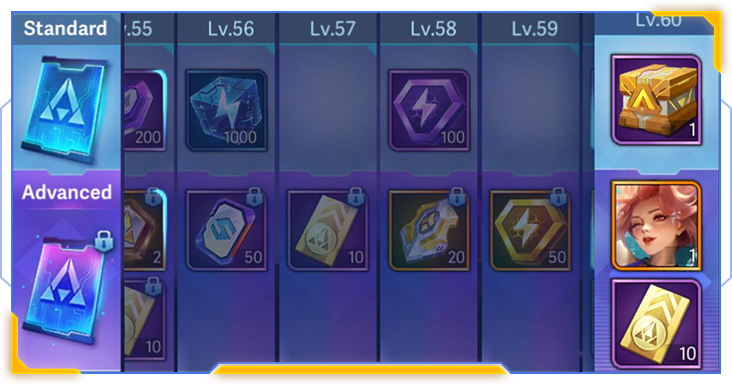 Exlusive Skin - Sophie, Chill'in Out (Advanced Battlepass Exclusive)